Catching shad in the winter can be really tough. Shad are deep and the cast nets seem to close up by the time they hit the bottom. Well, not all the shad go deep. Some shad go up the creeks and rivers, too. The creeks and rivers are shallower than the lakes. They have dark mud, clay, boulders, pebbles, and sand, which all retain heat and warm up the creeks. Most creeks don't get below 45-46 degrees here in the DFW area and are very shallow so they warm up quickly. A shad will die at about 41-42 degrees Fahrenheit, so they leave the shallows. Lots of shad will go up the creeks and rivers to stay warm and prevent freezing to death. Crappie, Black Bass, and White Bass sometimes follow these massive schools up the creeks, so bring a rod.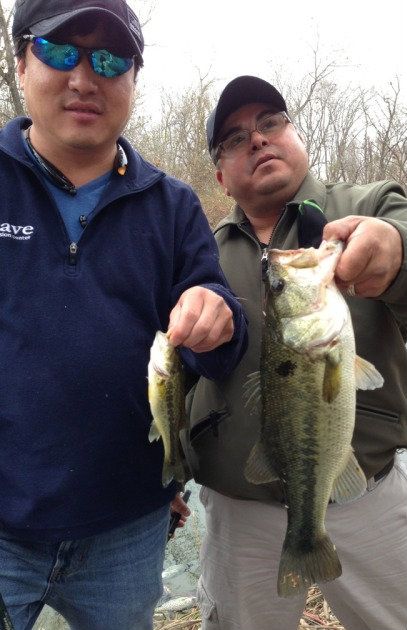 What I am looking for, is a man made dam or similar structure, preventing the shad from going any further up the water system you are hunting them out in. Then I start walking downstream from there. (Google Earth is your friend in looking at creeks and rivers.) I don't like to throw the net unless I can see the shad or the bottom. Blind casting in the deeper areas in going to result in a lost net. Just look for the green water!

The shad will stay in the creeks till the water in the creeks hit 55 degrees. Then they start to migrate out for their spawn. But a lot of them will stay in the creeks and spawn. When that happens, the Hybrids and White Bass come and spawn with the shad. Makes some great fishing!