Crappie fishing is still very good if you can bear the heat. Make sure ya'll are drinking at least 2 bottles of water and putting sunscreen on before you leave the house. Pack up back up water in case of an emergency. The intense heat can ruin your day fast.
Crappie are hanging out in 14-18 ft depths right now waiting on you to drop a jig to them. I'm using a new jig called Thump Buddy's,  by www.lightsouttackle.com, in Black and Chartreuse. I powder paint my jig heads "pink". They absolutely love that pink.  Use them on a 1/16 oz jig and a 1/8th oz jig head when its windy. The Thump Buddy's are made of a way better plastic than traditional hard body soft plastic jigs and if you glue it on your hook, you can use it for weeks till you loose it. The action rocks as well.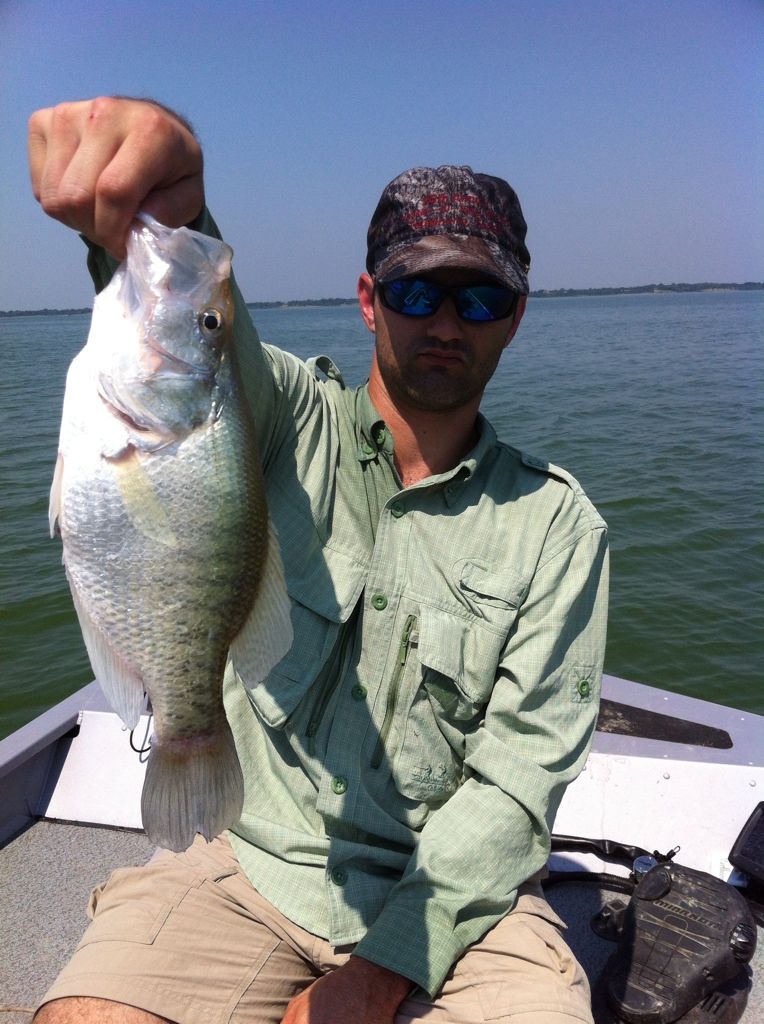 When using minnows, fish them Carolina style. Slid a 1/8th- 1/4 oz slip weight on your line. Then attach a 2-way swivel. Don't put a bead stopper on it. The crappie might try eating that first and make u set the hook, in-turn you loose your minnow after it gets yanked off. After the swivel, attach a leader line 2- lbs lighter than the main line so if you break off the leader and hook goes and not the swivel and weight. I like to use 3-4 inches of leader, fluorocarbon if possible, and I attach a size #4 hook to the leader. The short leader keeps the minnow right where u want it. Otherwise the minnow will free swim into the branches making them snag everything. Hold the minnow and jigs still, no need to jig them.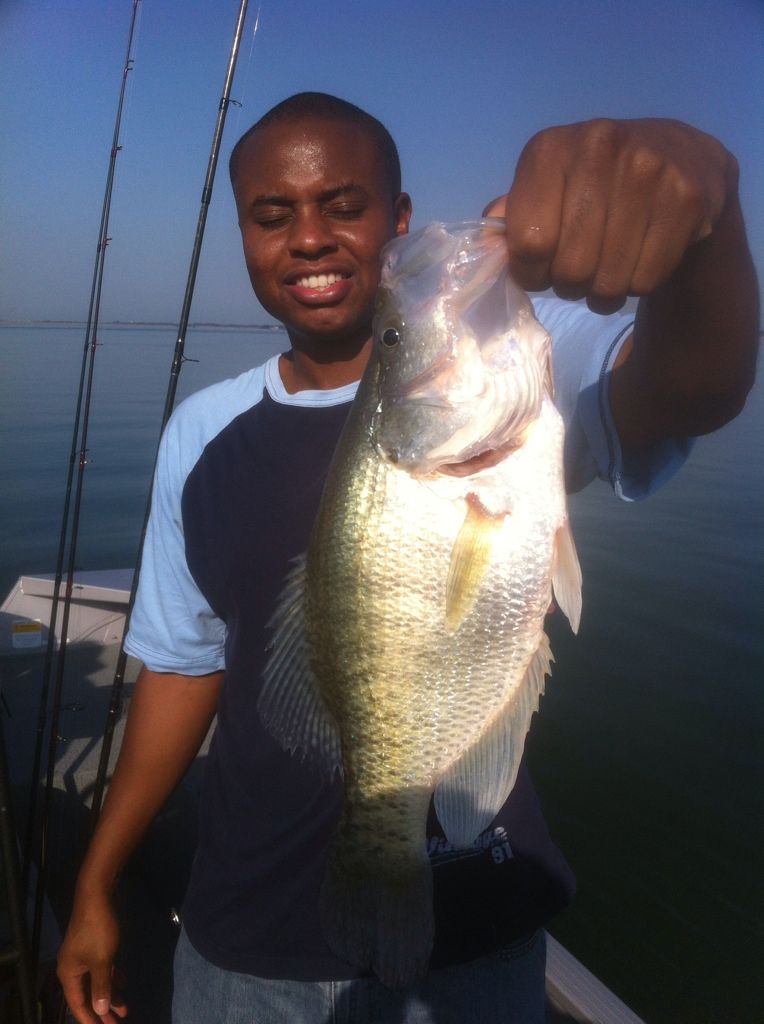 There is absolutely no need to fish shallower than 12 ft. Try to stay in 14-18 ft and make sure you fish no more than 6-12 inches away from the structure. The crappie are holding tight to the trees and brush.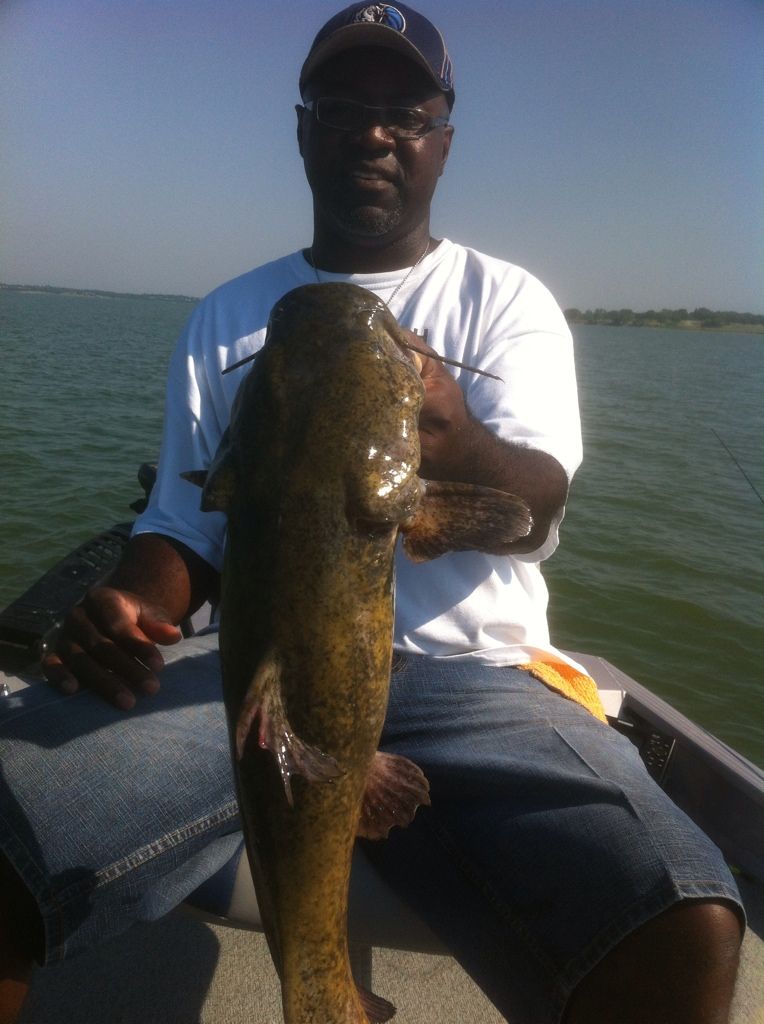 Don't be alarmed if your rod doubles over and you land a nice Flathead Catfish. If you find one of these, chances are very high the crappie are around, as they are feeding on them.
Even the Large Mouth Bass are getting in on the fun and hanging around brush piles feeding on the crappie and baby shad swarming the structure.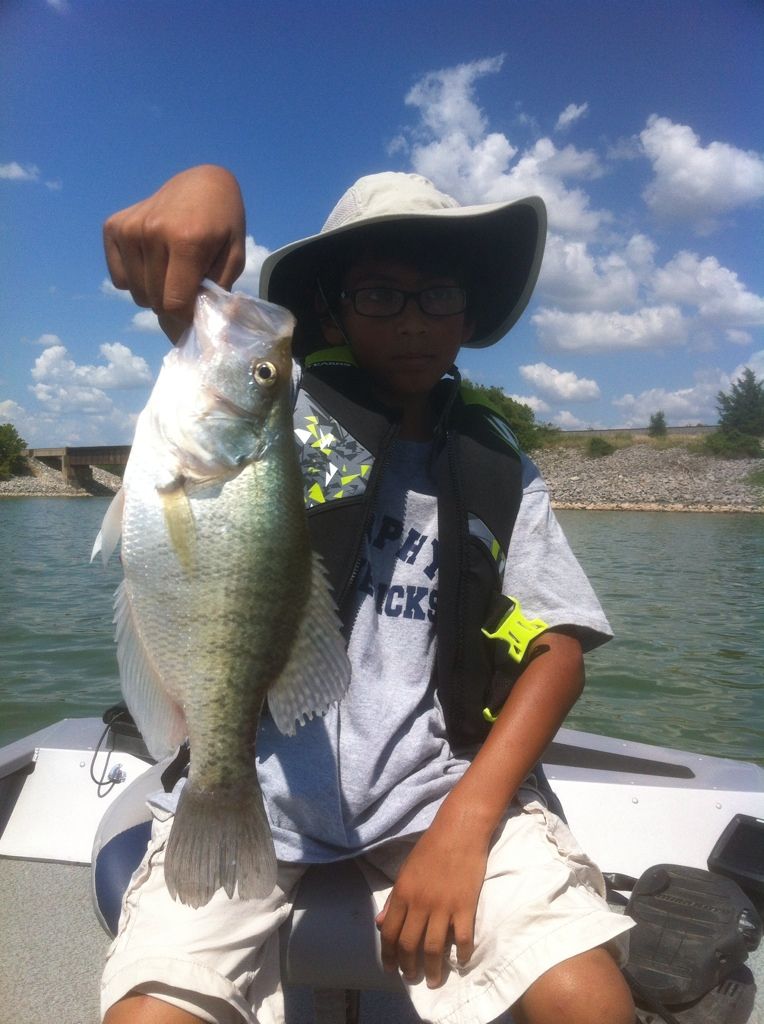 As the heat bears down on us, minnows are going to be king of the lake. When the water cools down, the fish will start nailing the jigs again. But, again, I would highly recommend sinking minnows down to the fish this time of year.